Okay the little meekiyu doesn't have something in her head but a squirrel on her head. You know how squirrels are just jumping, leaping, zooming from one tree to another looking for nuts. That's how my brain feels right now in the middle of midterms. It's darting from one subject to the other and never staying in one place looking for the answers to the tests. Actually that reminds me of some real squirrels around the city.
Say hello to the black squirrel. They're a version of the Grey Squirrel and they're pretty cool to watch like little black furry ninjas darting across the lawn. City Hall in downtown Manhattan is where I usually see them but they can be found anywhere Grey Squirrels are found just in a much lesser degree. Actually another little cute rodent I like more then squirrels are...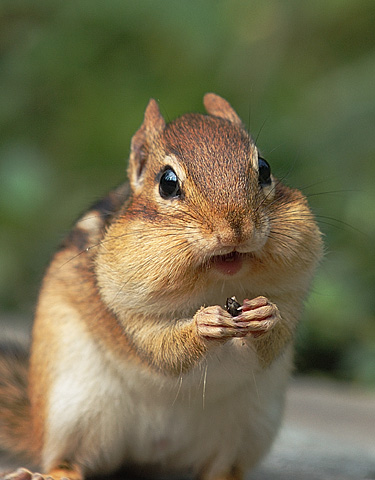 CHIPMUNKS! They're so so cute and tiny. I've seen one in Long Island and they are such fast little critters and I haven't seen one in the city before. The minute I saw it just standing there on the short stone wall I squealed and pointed it out to my friend. It was so darn cute. I'm a sucker for tiny cute furry things. Soo... instead of studying I've gone and made a post about squirrels and chipmunks.... way to go... =_= doh!
Until next time... a mind can go a million miles a minute...